The Cycle of the life: the museum of Sardinian origins
The agricultural museum of Quartu Sant'Elena
A majestic voice transmits traditions and original arts of Sardinia in the expositive halls of the Museum "The Cycle of the life", along the historical road Eligio Porcu, in Quartu.


"The sharecropper's house", with the presence of five thousand evidences of different kind, remembers the way to live of the Sardinian agro-pastoral branch from its private slant.


This is the name of the Museum, resolutely emblematic and evocative, that allows to understand the aim of the museum exhibition: the central idea of daily life that links the whole Island.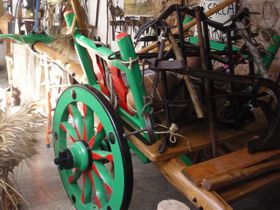 The show brings back since the origins to nowadays traditions, old jobs and propitiatory rites typical of a population devoted to work in the fields, but to the family, too, bedrock of the individual and daily life.


In an atmosphere of welcome that is typically local, the guide's words accompanies the visitor's steps along an extraordinary path of local dresses that, simbolically, represents from the poverty to the wealth of the original situation, dated back to the end of 1800 and the first years of 1900.

The cyclic alternation between the birth and the death represents the introduction of the whole path along the halls of the Museum: the guide explains that to the visitor when he comes to the central "Pratsa Bona", exposing himself, on the right, to the first expositive branch, the "Cycle Agrarian Year".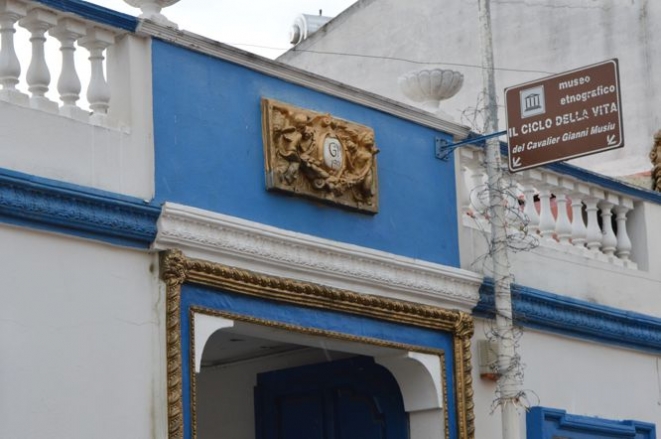 An agricultural area where a gushing cart erects, the only vehicle of that epoch and supplied of the tools and of the typical things of the trade, representative of the salary for the other people's performance. The visitor looks, during the oral explanation about the rituals of summer and winter solstice of traditional Sardinia.


The tour carries on along the various expositive halls that reproduce the sequences of domestic life between "S'apposentu de Cosiri", the sewing room, with the mother-of-pearl bed, the hall "Gratsia de Deus" the Grace of God, above all decorated thanks to hand trousseaus and to feminine dowries on the wedding chest, until "Sa Coxina", the kitchen, a place of domestic meeting.


Everything happens thanks to a harmonious undertone of words, a tale of the existential path from the birth to the puberty, favored by the exhibition of the ancient games and by the significant description of the various propitiatory rites annexed to each stage of life, symbolically represented into the Museum.

The curiosity of the visitor is stimulated by the initial guide's voice that, when they come in the last expositive hall inside, discover itself with Giovanni Battista Musiu, the founder of Sa Dom' ̒e Farra, the house of the Flour, now acquired to the heritage of the Autonomous Region of Sardinia.


Rural ruin renovated according to the dwelling of the Cavalier's grandfather, the House of the Flour, has been always representing a cultural symbol of Quartu town. Considered by the founder "a dream become reality", carries on living in the current successor, the Cycle of the life.



MUSEO ETNOGRAFICO IL CICLO DELLA VITA
Via Eligio Porcu, 271 - 09045 Quartu Sant'Elena (CA)
tel. +39 070 812462
giannimusiu@libero.it

ciclodellavita@libero.it
01 July 2015
©2019 Copyright - Sandalyon