Friar Ignazio from Laconi
The Saint Father
Vincenzo Peis came from Laconi, where he lived abiding by the Christian values until 1721, the year when he began the Novitiate at the Convent of Capuchins, obtaining the name of Friar Ignazio.

He carried his apostolate out in Cagliari for about forty years, giving an evidence of his communicative and charismatic religious skill about the execution of his role as a collector of alms.

The request of offertory was addressed for satisfying the needs of the poorest and of the most indigent and his quality was that of making people be more participating to the close and private situation of the Convent.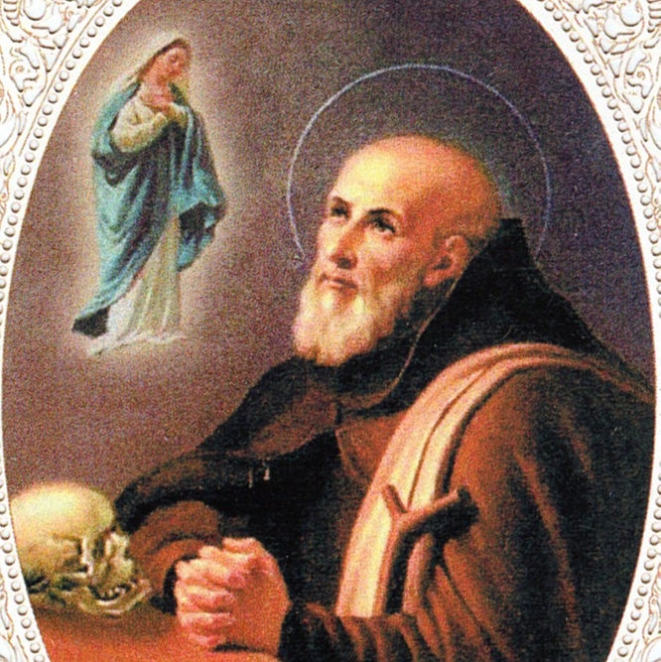 His modest figure, deserving of earned consensus for the actions made during his Christian gestures, was fundamental for the conversion of sinners.

The people's veneration came from the multiple virtues of the Friar as well and from the various miracles that, according to the observants, he did.

They result in the Summarium of 1868, published in the Positio super virtutibus, in which were dedicated 121 pages to the miracles did when he lived and 86 pages dedicated to the miracles post mortem.

The contextualization of the miraculous activities by Friar Ignazio allows to consider himself as "The Saint Father", by virtue of his magnanimous nature. It is thanks to the collaboration that man gave to God that rises the Friar's sanctity.

The virtuous emblem that he represented is the humility, a feature of his living in the daily service given for whichever person and the reason that justifies the epithet "The Friar of the Sardinian people". In 1779, because of his blindness, he was removed from the task of offertory and on 11 May of two years later, he died.

The process of beatification finished in 1951, through the proclamation of the Saint thanks to the Pope Pio XII. In Sardinia the commemoration of the Friar of students, happens just before the date of his death, a memorable day for celebrating who, according to the Nobel Award Grazia Deledda, is "the most remembered man of the Sardinian Eighteenth Century".
01 March 2016
©2020 Copyright - Sandalyon