Saint Saturnino
The Patron of Cagliari
The martyr Saturnino (285-304) was born in Cagliari and lived as a civis according to the Catholic creed for the family educational choice.

The courage and the character maturity characterized the Saint's personality.

In spite of his young age, he was allowed to oppose himself to the pagan idolatry, to which he did not surrender not even under the Diocleziano's domain and Massimiliano's.

During the aforementioned epoch, the agreement to trade was subordinated to the sacrifice towards Jupiter and to the pagan Gods; who refused to make the activity ordered, would be imprisoned and decapitated after the torture.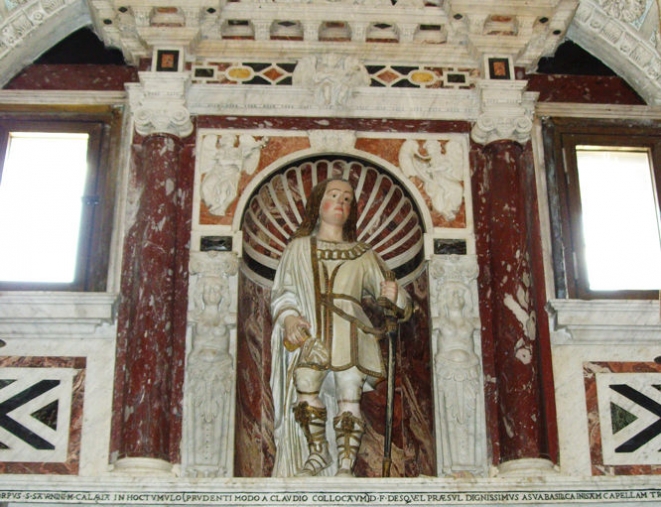 It was the Saint's destiny, become martyr exactly for having incarnated the faith to the word of the Son of the only and true God, Christ.

The events happened on 23th November, when in the Capitol of Cagliari there were the sacrifices in the honor of the pagan God, Jupiter. Saturnino, a young with a charismatic temperament, refused to take part in, and when he was led in front of the priest citizen, he exclaimed his disdain for the pagan cult and its Gods.

Although he had some supporters, this Christian strength led him towards scaffold, on which he died through decapitation.

The memorable date of his death, although it came back to the day of sacrifices, was established on 30th October 304 through jugulatus, according to the Passio Sancti Saturnini Martyris, an ancient text that tells the Saint's life. It is in this date that happened the commemoration of the Patron of Cagliari.

The young nineteen-year-old martyr was buried in the necropolis where rose up the church dedicated to him.

A testimony of his glory, is now named for the brothers Cosma and Damiano by virtue of the concession to the guild of Doctors and Apothecaries, happened in 1714.

The church is situated in the Villanova district and rises at the foot of the Bonaria Hill, an ancient necropolis that is extended up to the San Lucifero Church.

The paleochristian structure is one of the most important of Sardinia and it is an active area from the archeological point of view.
01 March 2016
©2020 Copyright - Sandalyon