Saint Antioco, a doctor and a martyr
A man with such a great faith that he was able to overcome numerous obstacles
It is an absolute truth that according to which who has faith is able to pass through the infinite and to surmount the unknown.

Trusting means having hope and a total certainty that whatever problem can be solved. Keeping solid own ideas means having the bravery of facing whatever situation. Antioco, become Sant'Antioco, could prove exactly that.

Antioco, a doctor who lived during the Empire of Adriano, did not choose to challenge the fate, but he wanted to carry on his certainties connected with Christianity.

His religious creed was so strong, that he was obligated to be subjected to hard punishments, but that did not represent any pain for him, because the principles that connected him to faith allowed him to win several tests.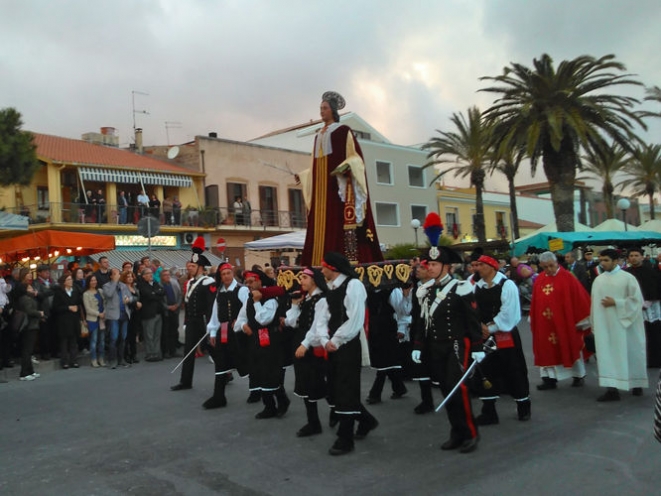 He was accused of outrage towards the Empire of Adriano, given that this person considered him the guilty of having created an entourage of followers of the Christian thought, while he worked as a doctor in the towns of Galazia and Cappadocia.

The punishments that he had to suffer were various and cruel: he was hooked to a tool of torture with a shape of a rack; then he was forced to have some torches lit around his body; he was put into a boiler covered with boiling tar. But it was useless, because Antioco was able to overcome every difficulties.

And that was possible thanks to his faith. So, Adriano, wearied of seeing that he survived continuously, decided to try again, for looking perishing the man who was creating big problems to him. Antioco was exiled in Sardinia, accompanied by Ciriaco, knight of the Emperor, and he was led to the Sulcis Island.

Fate wanted that he was forced to work in the mines present in that area.

Unfortunately, after lots of oppressions and enormous agonies, Antioco actually died and that happened in the year 127 about, by the Roman guards, who cut his head off.

The peculiarity was given by the spill of blood and milk too from his neck. Seeing this scene, the knight Ciriaco thought that it was a miracle and he became a fervent devoted. But, for him, that meant decapitation.
01 March 2016
©2020 Copyright - Sandalyon