The Corongiaiu of Laconi
The rediscovery of a lost mask
In Laconi there is a Carnival tradition very lively and deep, centered on a mask which in the past fell into oblivion and that recently has been rediscovered: the Corongiaiu.
Until the thirties of the last century "is corongiaius" made their first outing in the evening of St. Anthony's Day, on January 16, as all masks of Barbagia, animating the Carnival of Laconi with their dances and their ancient ritual. From 1935 the mask has mysteriously disappeared.

Therefore, the reasons of an oblivion eighty years long are obscure.
So long is, in fact, the period of time during which the "Corongiaiu" remained in the shadows, even at the risk of losing its memory.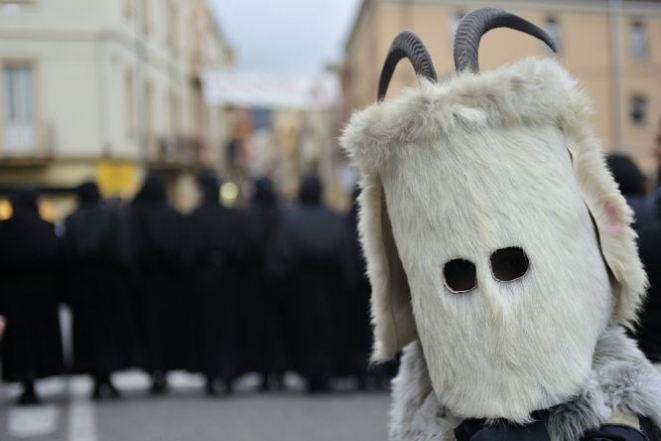 Photo by M. Maddanu - www.sardegnadigitallibrary.it/
But this mask linked to the ancient tradition of Laconi could not fall into oblivion forever, and so, a few years ago, thanks to the efforts and devotion of a group of youths, the mask came back in the limelight.
The enterprise has not been easy. It took time, a lot of passion and a strong attachment to the cultural roots. These young people through "The cultural association Su Corongiaiu" undertook a very challenging study to trace the features of the mask.


The only historical evidences were represented by the more or less clear memory that the elders of Laconi, through their memories, described the mask, enabled to obtain a clear profile and allowed us to reconstruct the ritual that was celebrated.
And as in most strong carnival meaning of death and rebirth, here we may witness to a dead tradition that unbelievably reborn.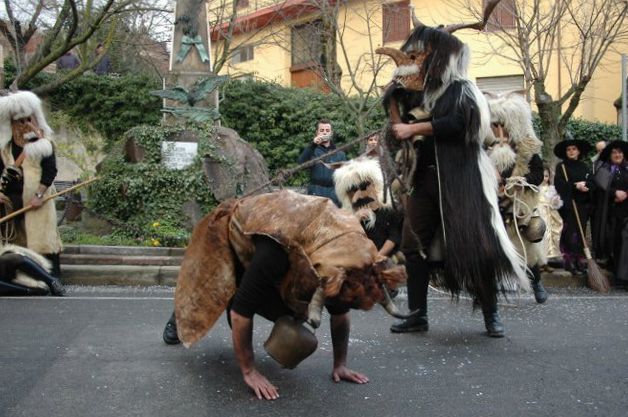 Photo by Cultural association Su Corongiaiu
The folk carnival of Barbagia even went up to its classical territorial boundaries, reaching Laconi, in the historical sub-region of Sarcidano, in ancient times, where another representative variant of Dionysus took shape.
That of the Corongiaiu is a figure with animal features, characterized by a large cork mask, cylindrical in shape, on which emerges a long nose, a big mouth and a sheepskin beard.
Could not be missed on the head of the mask a pair of goat horns.
The Corongiaius wear velvet trousers and a distinctive coat of sheep wool white or black, the est'e pedde (a sheepskin jacket, sleeveless, long almost to the knees); they carry, across their body, fifteen bells that, through a rhythmic dance, resound loudly.


The ritual that distinguishes this figure is the classical one of the masks of Barbagia: jumps, balls, dances, races, struggles, fights, submissions and finally death.
Su Corongiaiu leads the oe, the ox, which keeps tied to a rope, the constant repetition of the eternal struggle of man against the beast; struggle that from a few years, through intense and beautiful representation, we can once again admire in Laconi.
For more info and contacts
https://www.facebook.com/sucorongiaiu.laconi
01 January 2016
©2019 Copyright - Sandalyon