Tzippulas for Carnival
A dessert that follows the joking spirit of Carnival
Is tzippulas are the delicious pancakes, typical of Carnival and rigorously artisan, prepared by the expert hands of women who respect the traditions of their village. It is a dessert that is appreciated in the whole Island, but it is certainly typical of the Central Sardinia. Narbolia is the most important village where people dedicate themselves to cook is tzippulas of Carnival.
Being a dish typical of the period of the year when people love organizing events related to joke, in ancient times, some women used to enjoy themselves putting something into dough of is tzippulas, for instance some buttons of shirt. When they served is tzippulas, they waited with apprehension for the moment of the first mouthful, because they looked forward to laugh, when people noticed to have been cheated.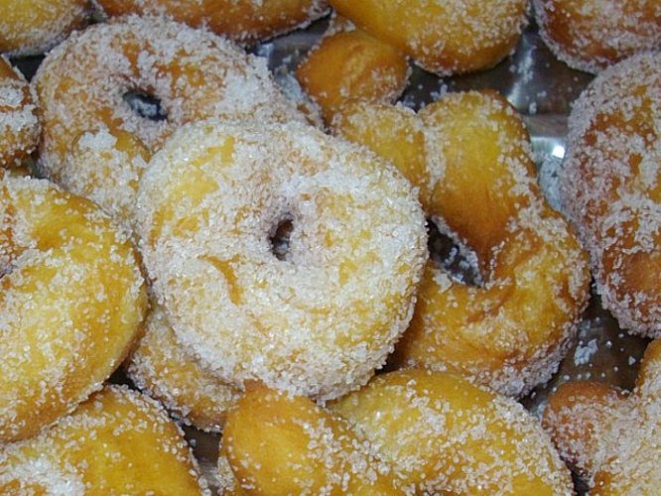 Ingredients are: potatoes, orange juice, grated peel of oranges, milk, eggs, brewer's yeast, saffron, limoncello, flour and soybean oil. The tools for cooking is tzippulas are sa scivedda, a small pot, a bowl for putting the peel of orange, a juicer, a bowl for orange juice and saffron, a machine for seeping vegetables, a bowl for potatoes, a pan for frying.


The first phase of preparation concerns the mix of flour and eggs in sa scivedda (a bowl), working everything together for about 10 minutes. Then, you add orange juice and saffron, and you carry on the working of dough until the whole absorption. Later, you carry on with potatoes – after having seeped them – always amalgamating slowly dough. You must pour hot milk.


The duration is about half an hour. You add the peel of orange, that is cut in a shape of snake and hung on the wall by lots of people, for making it drying out for the next use in the dough of is tzippulas. You must pour other milk and you add brewer's yeast, carrying on slowly, until the total absorption. As a last ingredient, you add limoncello. You work dough for another half an hour and then you make it rest for the whole night, covering it with a rag and a small blanket. Dough must stay, if possible, in a dry place.
The perfect quantity of ingredients is:
700 grams of potatoes,

1 liter of milk,

7 whole eggs,

4 oranges,

50 grams of brewer's yeast,

2 envelopes of saffron,

1 small glass of limoncello,

1 kilo of flour,

1 liter and ½ of soybean oil – you use this type of oil, because it allows is tzippulas to be more dry and with a good aspect.

At 9 o'clock of the following day, you can begin frying the first part of dough, taking care of the second maybe after lunch. It is necessary to heat well oil and you notice that it is ready, putting some orange peels and waiting for their pink color.

Before frying is tzippulas, you must take the portions of dough and you make a hole in the middle of each one. But, you must pay attention to wash your hands below the water when you take a part of dough that must be fried, because, in this way, you avoid that dough is attached to your fingers. For frying it is necessary a duration of about 10 minutes. Firstly, is tzippulas are low and they amplify gradually.
The ready tzippulas are caught through a wooden stick and you put them on an aluminum tray covered by 1 kilo of sugar, that is necessary to cover these delicious desserts. Finally, you extend them in another tray, this one covered by absorbent paper.
01 January 2016
©2019 Copyright - Sandalyon