Urthos e Buttudos
The protagonist masks of the carnival of Fonni
The typical masks of the carnival of Fonni are essentially two: the Urthos and the Buttudos. "Urthos" means "covered" and "Buttudu" is a term that refers to an uncastrated mutton.

"Sos Urthos" masks are animalistic, represented by a dress made of white goats skins, or more rarely in black, with the face painted in black, while hooded men try to tame them. They represent guardians dressed in black, with their faces painted and, around the neck, a weathervane of cowbells called "Sos Buttudos".

These two masks represent "Sas Mascheras Bruttas", "dirty masks", as opposed to "clean masks", "Mascheras limpias", which are present as well.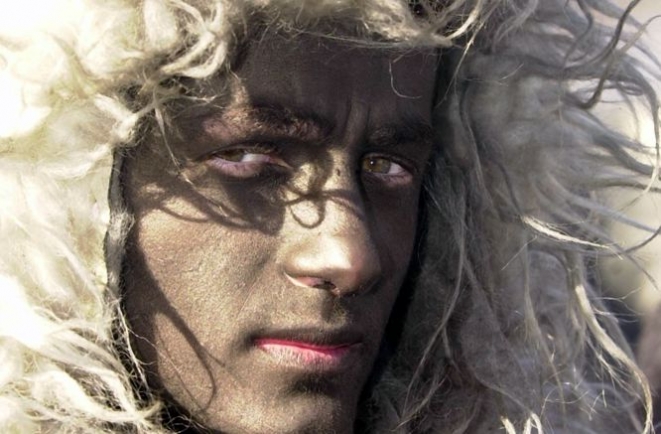 Photo RAS www.sardegnadigitallibrary.it/
Full of interest and very chaotic is the staging of the dance through the streets of the small towns, with S'Urthu being a great protagonist thanks to his agility, which makes him able to climb everywhere, and tries to break free from the guards.

The meaning of the carnival of Fonni revolves around the figure of this animal that is the host, and that according to some savants is actually a bear, an alien figure to the Sardinian fauna and in the case of clear import, but, according to others, it could also represent an ogre, a God of the dead, monstrous figure not well identified that inspires fascination and mystery.
01 January 2016
©2019 Copyright - Sandalyon