The deer of Sinnai
The big-game hunting for Carnival
Is Xerbus or Is Cerbus is an ancient tradition of Sinnai unchanged during the years since 1800 until nowadays. The Carnival plays of Sardinia have pre-Christian origins, as well as the Carnival of Sinnai, formerly called segàrepezza (cutting meat) with an etymological reference to the habit of people of butchering and eating meat in a greater quantity.
In Sinnai Carnival is different for the peculiarity of anniversary implementation, very hoped for children and adults, because it represents a moment of town sharing.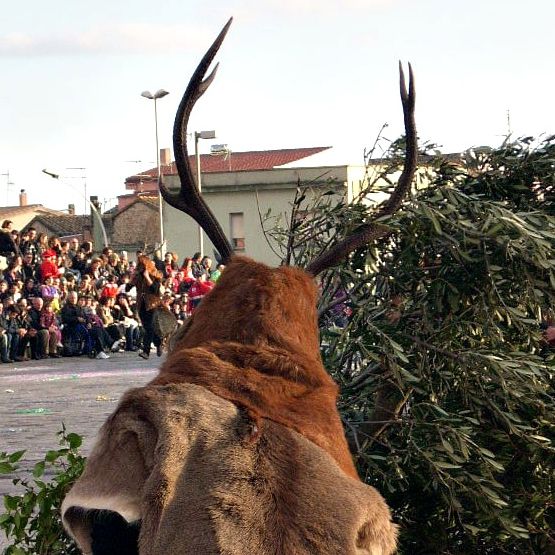 Photo by A. Montis - www.sardegnadigitallibrary.it/
The opening happens on Shrove Thursday, also called sa giobia de lardajolu, with reference to the habit of purchase of lard, followed, during the evening, by is mascheras de cuaddu (the horse masks), the foals race around the streets of the village. The typical attraction of people's Carnival tradition is represented by the parody of a deer and boar hunt, is cerbus, to which take part hunters and dogs. The significant symbolism of the play concerns to mock both the hunt lovers little capable to do it, and men who are sad because of their conjugal problems.


Fun happens thanks to various typical masks, firecrackers, torches, guitars and the throw of semini de stoia. According to the tradition of Sinnai, this race is characterized by some original masks, among which excels that of is cerbus, namely, men dressed up with deer horns and skins who reproduce the calls of the animal represented.
In addition to it, there are the mask of sirbonis and of muvras, respectively boar and mouflon. During the hunt, is canaxus push is cerbus towards a stakeout, dressed up with mountain clothes and a mask on the face.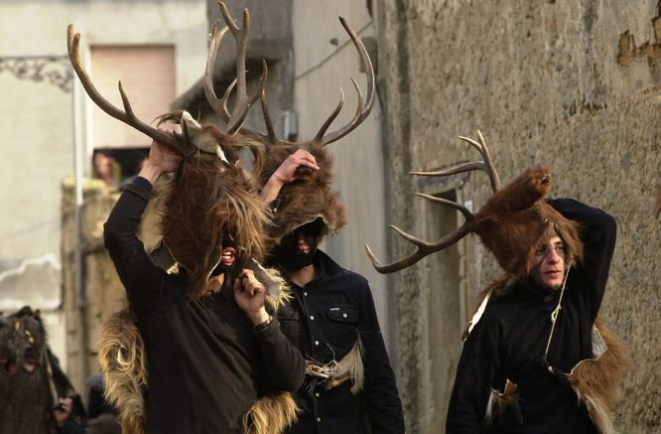 Photos Stock R.A.S. - www.sardegnadigitallibrary.it/
Happened then su martis de agoa, namely the last Tuesday when there are su ballu de Missa Manna (the ball of the Grand Mass) and the horses race by pair, people carry on with the proclamation of Carnevali mortu (the death Carnival), namely the end of anniversary symbolically sanctioned by the death of a puppet by decapitation or hanging.


Satire and irony represent the basic elements of Carnival and in that of Sinnai they excel through a big emphasis, although there would be its reference to propitiatory ancestral rites, aimed to the big hunt, the unique source of sustenance of tribal civilizations and the symbol of the supremacy of man towards Nature.

In this perspective, Carnival traditions symbolize hunt, also with different names, such as mamutones, mustaionis, boes, merdules and many other typical masks of Sardinian Carnival.
01 January 2016
©2019 Copyright - Sandalyon