Urzus, Mamutzones e Omadore
The masks of Samugheo
Original and charming, the carnival in Samugheo focuses on two key figures: the Mamutzone and Urtzu.
The first wears goat fur, fustian trousers and a belt of bells. There is not the mask.

The Mamutzone face, in fact is painted black. The most interesting element is therefore represented by the headgear: a container of cork, covered with sheep fur with a couple of powerful horns that stand on the top.
However, the Urtzu wears a black goatskin and is strewn with massive cowbells.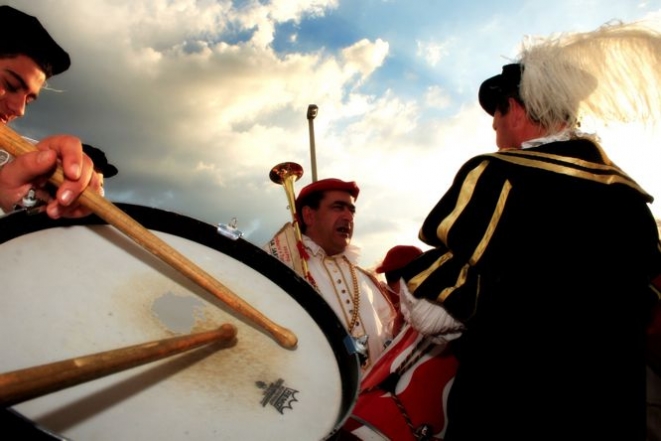 Photo by F. Marras - http://www.sardegnadigitallibrary.it
A third figure is represented by the Omadore, that is the tamer, the human character, which represents the shepherd with his long coat of coarse wool. These have a rudimentary arsenal consisting of a rope, a stick and a chain, tools with which rages against the Urtzu.

Even here in Samugheo the meaning is entirely focused on both the classic Dionysian celebrations typical of the Sardinian carnival, either on the typical aspects of the agro-pastoral culture.
The character of the Urtzu, is intended as the sacrificial victim of the performance and a particularly fascinating moment of the representation is the mad ritual dance of the Mamutzones, when a fight between goats it is staged, in clear reference to the propitiatory good season to come.
01 January 2016
©2019 Copyright - Sandalyon